A balanced blend of academicians and field engineers in the faculty, with long experience in planning, design, construction, operation, and maintenance of water resources and hydropower projects, help in implementation of application oriented academic programs. The department is actively involved in research, development and extension activities in the areas of water resources, hydropower and irrigation management.
Water Sector - Key Concerns
Safe Drinking Water and Basic Sanitation for All
Improving water quality in rivers
Preventing pollution of Aquifers
Jurisdictional Conflict - Interstate/ International
Water Sector - Key Concerns
Managing non-point source pollution
Click to download the report on World Water Day 2022 (IWRS Meerut)

Indian Water Resources Society (IWRS) Awards 2019-2020

Download Application form for Life Membership
National Workshop
Flood Management under Changing climate
February 01, 2019
International Conference on Sustainable Technologies for Intelligent Water Management.
Download Full Report
February 16-19, 2018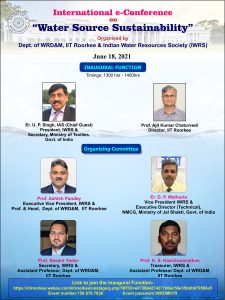 "When we save a river, we save a significant part of an ecosystem, and we save ourselves as well because of our dependence–physical, economic, spiritual,–on the water and its community of life."
"Water is the most critical resource issue of our lifetime and our children's lifetime. The health of our waters is the principal measure of how we live on the land and what we are going to leave for our next generation."
Total Active Members of IWRS.
Want to join iwrs? Click to download form.